J.L. Roll-off Service, Inc.
Frequently Asked Questions
---
Q. "How do I know which size to order?"

A. One cubic yard is roughly the size of a washing machine, therefore, a 10 yard dumpster will hold 10 washing machines, and so on. If you click on the Dumpster Sizes page, the photos may also help you determine the right size. We recommend ordering a size larger to ensure you can fit everything in the dumpster. It is cheaper in the long run to have some room left in the dumpster than having to order a second dumpster.
Q. "I have a large amount of debris that I need hauled away and I don't have room to put a dumpster. What can I do?"
A. We can do a Load 'N' Go. That's where we bring a dumpster of whatever size you believe you will need and we set it off near the debris. You have your workers (3 or 4 workers recommended) load the dumpster while our driver waits up to one hour. You only pay for the cost of the dumpster. However, if the loading takes longer than one hour then an extra charge of $15 per 1/4 hour is added to the cost. We can only provide Load 'N' Go service on days that we are not too busy, usually Tuesday thru Thursday, so please make arrangements for this service several days in advance.
Q. "Does J.L. Roll-off Service do any recycling?"
A. Absolutely! All of the loads that we haul are taken to local recycling transfer stations. There, the loads are dumped and then hand sorted into separate catagories such as cardboard, steel, plastics, wood, brick, etc.
If your job is located in the City of Chicago, we can provide you with the documentation you'll need to comply with the new Chicago recycling ordinance.
Q. "Does the dumpster have a door?"
A. Yes. All of our dumpsters feature an access door at the rear that is as wide as the dumpster and swings all the way around and flush against the side of the dumpster when opened.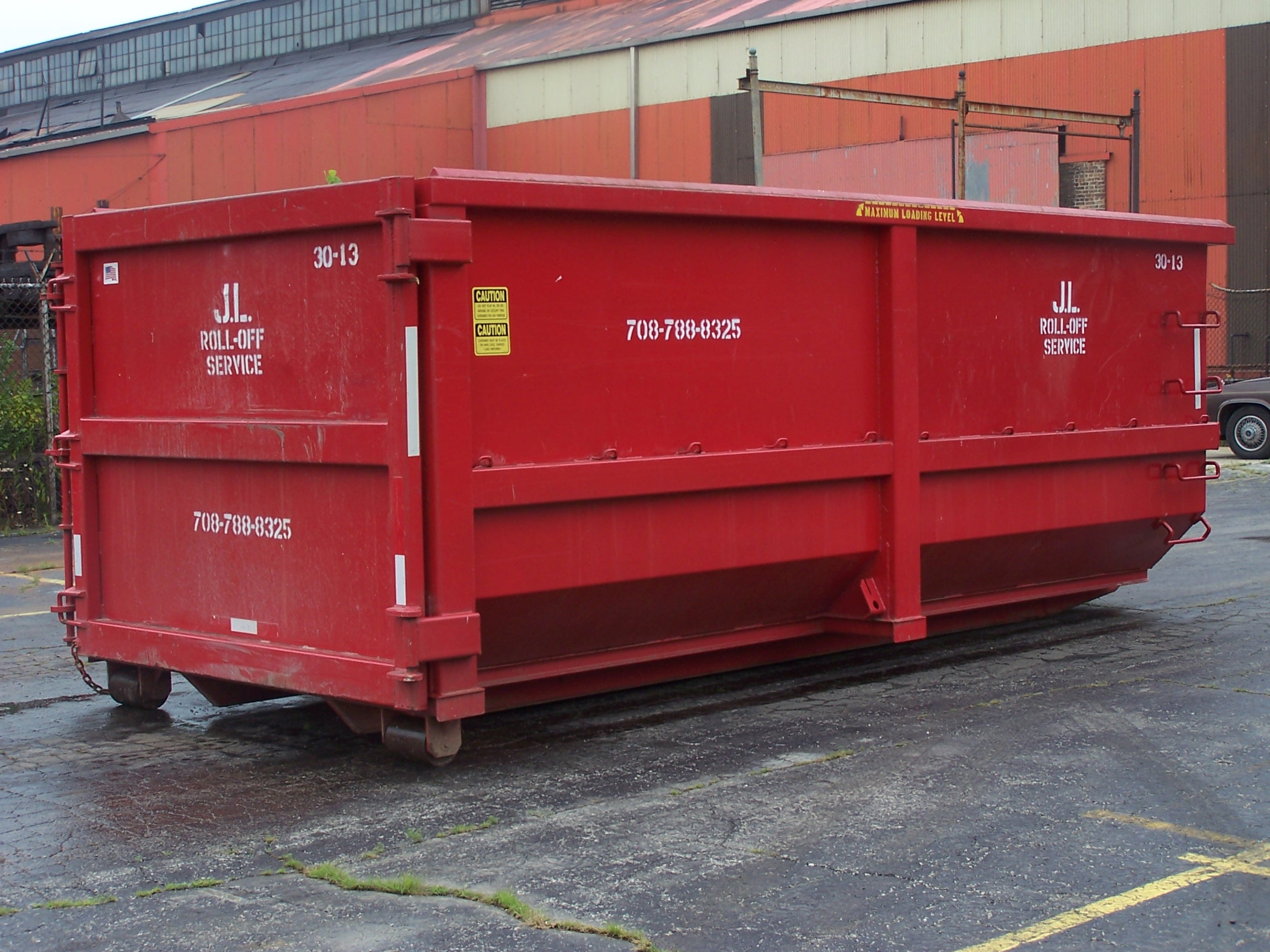 Q. "Can I get a dumpster that has graffitti on it?"
A. No. You'll have to call some other company to have a box delivered with graffitti on it. In fact, we guarantee that we will never deliver a box to a customer that has been tagged by a so-called graffitti "artist". If one of our dumpsters is tagged, we immediately paint over or remove the graffitti.
Q. "My town requires a flashing barricade when putting the dumpster on the street. How do I go about getting that? ...and where can I go to rent them?"
A. Easy. There's no need to go out and rent them. Just let us know and we'll bring the barricade, free of charge.
Q. "How long may I rent the dumpster?"
A. Dumpsters are rented for a 5-day period unless other arrangements are made. A charge of $20 per day may be assessed for each day beyond the 5-day rental period. If given proper notice, we usually will give an extra day or two past 5 days at no charge. If a dumpster is needed for several weeks at a time, we can work with you to minimize the cost and charge a lower "per week" charge.
Q. "Does J.L. Roll-off Service provide the labor for Yard cleanups or house and garage cleanouts?"
A. Yes, we can. Please call to discuss the scope of the project.
Q. "I have a nice driveway that I don't want damaged or scratched when the dumpster is delivered. What can be done to help prevent any damage?"
A. We cannot guarantee that the dumpster will not leave marks. However: we recommend that the customer provide three 6 to 8 foot long boards for the driver to place under the dumpster. The boards may be old scrap lumber but should be free of screws and nails. This step will help prevent damaging the driveway. The wood will be left behind at pickup unless we are told otherwise.
Q. "Can the dumpster be placed on my front lawn?"
A. Yes, but the dumpster will leave marks and damage the lawn. there may also be a problem if we have to back over a curb to place the dumpster in position. Some towns forbid doing this, others don't mind. The City of Chicago requires a special temporary driveway permit that we can obtain for $125, in order for us to back over a curb. Please check with your town's building department if you are not sure.
A. There are two ways: You can call your alderman's office and ask them directly, or we can request them for $25. We require 72 hours minimum notice.

Q. "How much can we fill the dumpster?"
A. You can fill the dumpster no higher than level full with the top of the dumpster. Loading above level full can create an unsafe condition. Debris loaded above level may fall off when placing the dumpster onto our truck or in transit. The driver may have to remove some waste in order to make the load safe to transport. An additional $25 fee may be charged if the driver has to climb onto the dumpster to level out the load.
Q. "Do you service commercial compactors?"
A. Yes.
Q. "What size dumpster can we use for brick, dirt, and/or concrete and how much can we load into the dumpster?"
A. We only use 10-yard dumpsters for brick, dirt, and/or concrete. The loads must be free of any trash and can be loaded no higher than 6" below the top edge of the dumpster. Loads mixed with any trash will be subject to additional charges based on weight. Please call for details.
A. Cash, Money Order or Cashiers Check. Personal and business checks also accepted with valid I.D.
We also accept credit cards. A 5% convenience fee is charged for each transaction.
There is a $25 service charge for checks returned "N.S.F.".
Businesses may apply for credit and be billed weekly by requesting a Business Credit Application.
If you have a question, please E-mail us at:
jlrolloffservice@sbcglobal.net