Our History
Our family has been servicing the waste needs of Chicago area residents and businesses for over 80 years.
My Grandfather, Jens Lauesen, arrived at Ellis Island from Denmark in 1923. A farmer by trade in the old country, he had family living in Chicago, so after making his way here, he soon got a job working on an ash truck. My Grandmother, Hermina, came to the U.S. four months later with their four children, my uncles; Herman, John, Chris and Fred.
In those days most apartment buildings in the city of Chicago burned coal for heat, and the ashes needed to be hauled away with the rest of the trash which was also usually burned along with the coal. The work was hard, dusty and dirty. It was common for the ash men to go down into the basement boiler rooms and carry out 30 gallon drums of ashes on their backs which would be brought out to the truck and then carried up a ladder and dumped into the bed of the truck. Later the ladder truck was replaced with an automatic lift-gate truck. Sometimes the ashes and clinkers would still be hot and other times the janitors would wet them down with water to douse the red-hot embers thus making the drums all the heavier.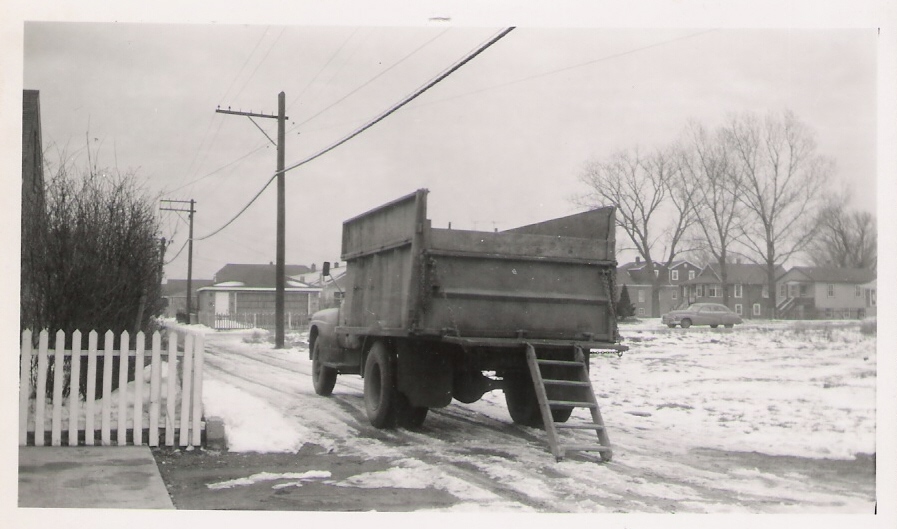 In 1943, after having saved his money, Grampa purchased his own ash route along with a three-year-old dump truck for $5000, from another ash hauler named Mr. Paul J. Dirks. The route was primarily apartment buildings on the North side of the City of Chicago with some industrial clients mixed in, including the old Franke Gear Works, Grant Hospital and Olrich & Berry Preserves Co.
In 1954, at the age of 19, my father, Jens F. Lauesen (pictured below, circa 1960), joined the family business. The first days were rough going for the young man and after two weeks he had decided that he just wasn't strong enough to carry out those heavy ash drums, so he told his dad he was going to quit. Grampa told him that all he needed was a little more time to get used to the work, he said "Just give it two more weeks. If you still want to quit at that time, then okay. at least you've given it a chance". A couple weeks went by and as he got stronger the muscles stopped aching and the work got a little easier.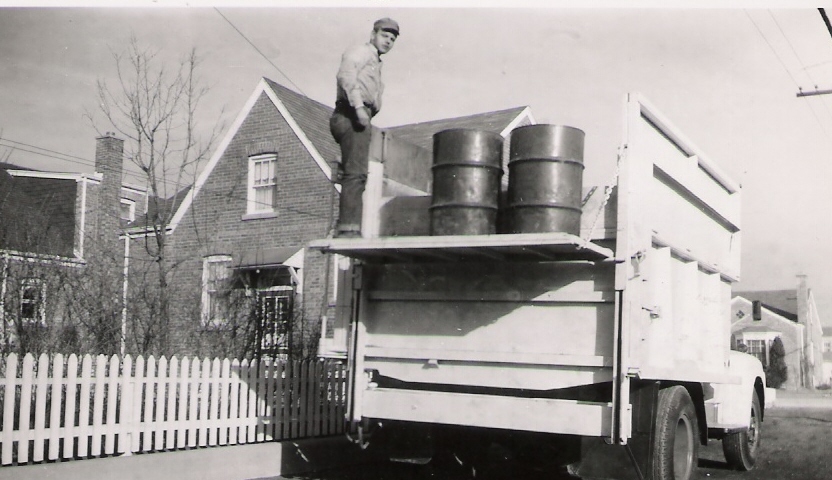 He decided to keep at it, and in 1970 my father took over the reigns of the business and soon began converting it from an ash route to a garbage route because the City of Chicago was fazing out the use of coal and garbage burning throughtout the city.
The business grew steadily year after year and in 1983 I began working alongside my father at the age of 20. We worked together for 18 years until his retirement.
My wife, Karen, and I started our own business in April of 2001 by purchasing our first roll-off truck with one used dumpster, and forming J.L. Roll-off Service, Inc. Today we own and operate three trucks with over seventy-five dumpsters to serve our growing list of customers throughout the Chicagoland area. We owe our success to to our loyal customers and to our devoted and hard-working employees, Lou and Dave.
We are committed to providing our customers with excellent service at a fair price and we look forward to serving your waste needs in the near future.
Jens C. and Karen Lauesen
In Loving Memory of
Jens F. Lauesen
1935 - 2006